Minister promoting cycle lanes has bike stolen
Comments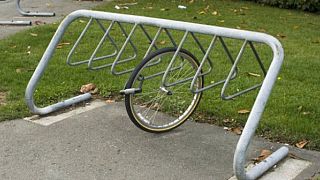 A Belgian mobility minister was left red-faced after his bike was stolen at an event to promote cycle lanes.
Ben Weyts, minister for the Dutch-speaking region of Flanders, turned up in cycling shorts and t shirt to announce a plan to invest 300 million euros in cycle lanes.
He had padlocked his two-wheeler to a bicycle rack at Halle railway station, south of Brussels.
On his return 30 minutes later, his bike was gone. The only evidence of it being there was the front wheel, still attached to the railing.
The minister was forced to call his driver to pick him up, a spokesman said.
Mr Weyts, who tweeted about his loss, is hoping CCTV will help police find the suspect.
De politie van stad_Halle</a> gaat zorgen voor meer patrouilles & camera&#39;s aan station. Te laat voor <a href="https://twitter.com/BenWeyts">BenWeyts, maar goed voor alle pendelaars! pic.twitter.com/IuTtkraQKe

— Radio 2 Vl-Brabant (@Radio2VlaBra) February 14, 2017