Kraft works wonders at South Korea's inaugural ski jump event
Comments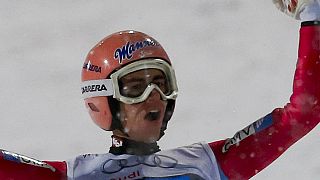 South Korea's signalled its more than ready to host next year's Winter Olympics by staging the latest round of the World Cup ski jumping.
Austria's Stefan Kraft won the inaugural event at PyeongChang and he did it in some style with spectacular leaps of 138-metres and 137.5m. His efforts left him way ahead of the pack and onto his sixth podium finish in a row.
Andreas Wellinger of Germany finished just behind with two jumps of 136m while Poland's double Olympic champion Kamil Stoch recorded leaps of 126.5 and 134 to come in third.
Slovenia's Anze Lanisek in fourth and Stephan Leyhe of Germany in fifth provided the surprises of the day. Both had the longest jumps of the day with 139.5 m in the second round and both achieved career-best results.
In the overall World Cup, Kamil Stoch (1240 points) is now exactly 100 points ahead of Stefan Kraft (1140 points). Daniel Andre Tande of Norway is third,