Macron seen winning French presidency in latest poll
Comments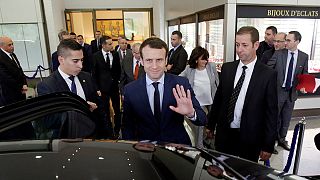 France's far-right leader Marine Le Pen visited a migration hotspot on the country's border with Italy on Monday. Le Pen has made cracking down on immigration a key election issue in the run-up to the April/May presidential vote.
Latest opinion polls have her easily winning the first round but losing in the second.
If the independent centrist candidate Emmanuel Macron gets through, the polls say he would secure a convincing runoff victory over the National Front boss.
Macron took his campaign to Algiers on Monday to promote French-Algerian relations as a platform for working more closely with the rest of Africa".
Conservative François Fillon was on Reunion Island. Scandal hit Fillon is fighting to keep his campaign alive. Polls since "fake job allegations" emerged, have seen him slipping out of the race. But if he does hold on a knockout with Le Pen would be closer than in previous polls.
The Opinionway poll
First round of presidential election
Marine Le Pen 26%
Emmanuel Macron 22%
François Fillon 21%
Second round possibilities of presidential election
Marine Le Pen 37% Emmanuel Macron 63%
Marine Le Pen 42% François Fillon 58%