Iraqi agriculture in ruins as ISIL leaves trail of destruction
Comments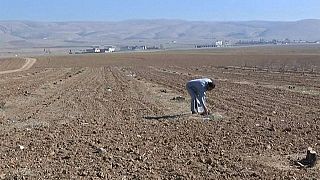 As the battle to rout ISIL from Iraq reaches its bloody crescendo, the world can catch a glimpse at the militant group leaves in its wake.
Two years of brutal control over the province of Nineveh, Iraq's breadbasket, has left agriculture in ruins.
The Iraqi army has forced the jihadists out of eastern Mosul and some nearby villages, but the extent of the damage caused during their reign has become clear.
Sami Yuhanna is a farmer from the Christian village of Qaraqosh.
ISIL's mismanagement and terror destroyed his farm, from which he sold 100 tonnes of wheat a year before the jihadists put a gun to his head and confiscated his land.
He said: "How am I going to be able to rebuild this again? Our hope is that international organizations help us but as for the government, no, we don't have hope. If they want to compensate me, they will need to compensate a lot of people, all the way from Basra to Duhok.''
Not long ago, Nineveh produced 1.5 million tons of wheat per year, 21 percent of all Iraq's wheat cam from the region.
When ISIL came, production dropped to just 300,000 tons.
It is estimated that 70 percent of farmers fled when ISIL arrived.
Those who remained, such as Abdel Salam Younis from Omar Qapchi, faced heavy taxes.
''They had bureaus where we went to pay zakat [Islamic tax], there was no escaping it, you had to pay," he said. "If you didn't pay they came to you and made you pay a fine and then they put you in jail.''
But while taking taxes and confiscating land, the militant group failed to properly manage agriculture in the region.
Where the Iraqi government paid 565 euros per ton of wheat, ISIL paid just 188, financially crippling local farmers.
In addition, they seized over a million tons of wheat stored in government silos, and sold almost half the agricultural machinery to finance themselves.
Extensive damage to farming facilities such as the irrigation system is compounded by further problems caused by war.
Mines and explosives left by ISIL make the area rife with danger.
Aref Hassan, Head of the Farmers' Association in Ba'ashiqah said for many farmers it is too risky to return to their land.
He said: "We hope international organisations and de-mining organisations will clean up the farming areas of explosive devices and land mines. This area was the first line of fire against Daesh and it is full of land mines. Farmers cannot go back to their land."
These problems will have to be remedied swiftly.
With no end in sight to the battle against ISIL, many Iraqis are facing a severe lack of food.
According to the UN, almost two and a half million Iraqis lack the food they need to cover their daily needs.