Hamas elects Yahya Sinwar as Gaza leader
Comments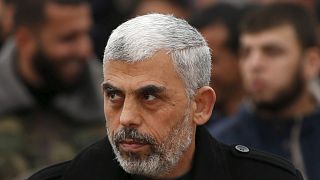 The Palestinian group Hamas has elected a commander of its armed wing as overall leader in Gaza.
Regarded as a hardliner, Yahya Sinwar rejects any reconciliation with Israel. The 55-year-old was jailed for murder in Israel but freed after 22-years behind bars as part of a prisoner swap deal in 2011 for the captured Israeli soldier Gilad Shalit.
Sinwar, who was added to the US' terrorism blacklist in 2015, takes over from Ismail Haniyeh, who has been prime minister of the Hamas government in Gaza since 2007.
Haniyeh is a frontrunner in upcoming elections to replace Khaled Meshaal as the Hamas movement's political chief both home and abroad.