Four takeaways from the 2017 Grammy's
Comments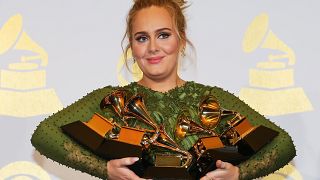 Adele: Winning amid controversy
Adele starred in the 59th annual music awards show, picking up 5 wins, including Album of the Year and Song of the Year.
Chance the Rapper also impressed with 3 wins, including Best new Artist.
Adele came one short of her 2012 triumph of 6 awards, but still beat Beyonce to pick up the most prestigious awards on offer, including Best Song, Best Record and Album of the Year for her hits "Hello" and "25" respectively.
But Adele's acceptance of her Album of the Year award was not straightforward, as she hinted at refusing the honour in deference to Beyonce's "Lemonade", which the London-born singer thought should have won the accolade.
It is unclear if she will officially reject the award. If she does, it will be only the second time in history an artist has given their trophy back. Irish singer Sinead O'Connor made history in 1990 by rejecting her Best Alternative Album prize.
Adele's reluctant acceptance was not the only protest, however, as politics dominated the Los Angeles ceremony.
Protests with and without song
Several artists including Frank Ocean and Kanye West boycotted the event, complaining that the annual awards too often overlook black talent. Ocean even declined to submit his album 'Blonde' for consideration due to lack of representation.
Others, such as J-Lo, Katy Perry and Schoolboy Q noted their opposition to the Trump administration with vocal and symbolic protests, including Perry's armband that read "persist".
A projection of the US Constitution was shown after Perry's performance, a clear message of opposition to President Trump's travel ban and ensuing court battles.
A Tribe Called Quest then performed "We The People" in honour of protesters, and as a tribute to their bandmate Phife Dawg who died in 2016. As their performance drew to a close, the stage was filled with people of different ethnicities and rapper Q-Tip chanted "resist" as the broadcast faded to a commercial break.
Beyonce, of course
Beyonce stunned the audience with gold-clad performance of two songs from her nominated album 'Lemonade', set against a backdrop evocative of her Instagram post used to announce her twin pregnancy.
"Queen B", as she is known to her legions of fans, won two awards, but also celebrated her sister Solange Knowles' win for Best R&B performace for "Cranes in the Sky". Tina Knowles, the pair's mother, was also on stage to introduce Beyonce's live performance.
And not to be left out, Beyonce and husband Jay-Z's daughter Blue Ivy was seen dressed as Prince, who died in 2016, and whose music is now available to stream online for the first time.
Bruno Mars also dressed up as the famously purple-themed Minnesotan for his performance alongside The Time.
George Michael tribute
Adele was back on stage to perform a slowed-down version of George Michael's hit 'Fastlove', as a memorial to the British pop star who died on Christmas Day.
But in scenes reminiscent of last year's ceremony, Adele was again hit by performance problems.
Clearly emotional, the singer had to restart the song, saying "I'm sorry for swearing and I'm sorry for starting again. I can't mess this up for him (Michael). I'm sorry, I can't".
Her 2016 performance of 'All I Ask' was beset by technical issues, though the problems in 2017 seem to have been human.
Adele is an outspoken fan of George Michael, and even dressed up as the 'Faith' singer for her 27th birthday.