Alpine skiing: Aerni wins shock gold at Worlds
Comments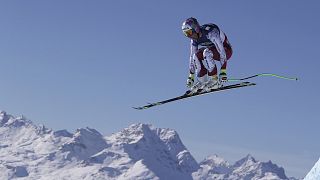 Luca Aerni handed host nation Switzerland their third title from six races at the World skiing championships in St. Moritz.
Aerni stunned the big guns to win the men's Alpine Combined gold medal.
The 23-year-old was only added to the list of Swiss skiers for the race the night before.
He was 30th after the downhill section making him the first starter in the slalom and a long shot for the win.
But he used his running order to perfection and clocked the fastest slalom time of the day to celebrate his very first race victory.
Defending champion Marcel Hirscher of Austria was second while Aerni's teammate Mauro Caviezel took home the bronze medal.