Juncker warns Brexit could divide EU
Comments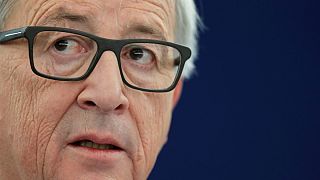 European Commission President Jean-Claude Juncker fears Britain will try to divide the EU's remaining 27 members during its negotiations to leave the bloc.
In an interview to be broadcast on German radio on Sunday, he warns that Theresa May's government, due to trigger formal divorce talks by the end of March, will make different promises to different countries.
"The other EU 27 don't know it yet, but the Brits know very well how they can tackle this," Juncker told Deutschlandfunk radio.
"They could promise country A this, country B that and country C something else and the end game is that there is not a united European front."
Brussels chiefs says Britain may move to divide EU members during Brexit talks https://t.co/wNwcJSFOBp

— Evening Standard (@standardnews) 11 février 2017
Juncker reiterated that the UK can't negotiate its own trade deals as long as it remains an EU member.
And he revealed that he, himself, won't be seeking a second term in the Brussels hot seat when his tenure as Commission President comes to an end in 2019.
with Reuters