Suspended 3,000 euro fine for Frenchman sheltering illegal migrants
Comments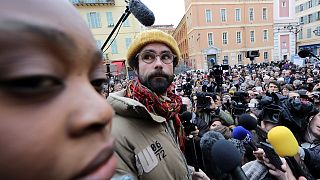 A French farmer who was accused of assisting illegal entry has been handed a 3,000 euro suspended fine by a court in Nice.
Cedric Herrou, who is from the Roya valley near the Italian border, had become a local hero for helping African migrants without authorisation to enter, travel through and remain in France.
Herrou said it was an act of humanity, not a crime. He claimed he was picking up the slack for "a state that put borders in place and is absolutely not managing the consequences," reported RFI.
He may continue to provide aid to refugees. On Friday morning Herrou still had people staying in caravans on his farm, reported The Guardian.
BREAKING: French 'hero' farmer Cédric Herrou is given 3,000-euro suspended fine for helping migrants from Africa AFP</a> <a href="https://twitter.com/claudinerenaud">claudinerenaudpic.twitter.com/dM8aCkcydp

— Guy Jackson (@guyjackson42) February 10, 2017