Tensions flare on Israel-Gaza border
Comments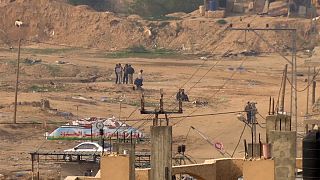 A group affiliated with the so-called Islamic State has claimed responsibility for firing rockets towards Israel from Egypt.
The Israeli military said its missile defence system had intercepted several rockets launched towards the Red Sea resort of Eilat in the south of the country. The Sinai province group said it fired a number of 'Grad rockets' against what they called 'gatherings of Zionist occupiers'.
Hours after the rocket fire, two Palestinians were killed along Gaza's border with Egypt when a tunnel was bombed in an apparently unrelated incident.
Gaza blamed an Israeli air strike, however, Israel's military said it had no information about a strike.
The Israel-Gaza border has been quiet in recent months, but a Palestinian rocket launched from the enclave on Monday drew several retaliatory strikes from Israel.