Gaza blames Israel for tunnel blast 'killing two Palestinians'
Comments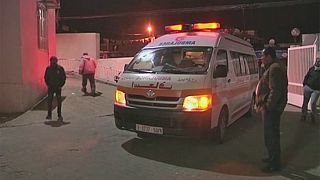 The authorities in Gaza say two Palestinians were killed by an Israeli bomb attack on a tunnel near the Egyptian border.
The Israeli military denied carrying out an attack overnight.
The Palestinian Health Authority said five people were injured and the casualties taken to hospital. Eyewitnesses reported seeing an Israeli plane fire at the tunnel.
In the past, groups linked to the so-called Islamist State have claimed responsibility for such attacks.
On Monday tensions flared along Israel's border with Gaza as Israel retaliated to rocket fire with several attacks on targets linked to Hamas.
Earlier on Wednesday it said it had intercepted several rockets fired from the Sinai peninsula at the southern Israeli town of Eilat.
This follows a period of relative calm.
Recently commercial activity has been increasing between Gaza and Egypt via the tunnels.
Goods ranging from steel to fish have arrived in the enclave.
Cairo eased restrictions in a sign of improved relations with the Palestinian territory's Islamist rulers.