Ontario police officer busts moves in dance-off
Comments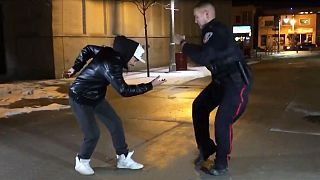 A police officer in Ontario, Canada, responded to a call concerning a 'fight' on February 6, but it actually turned out to be a local dance crew recording a video.
"I saw eight people gathered around one person, so I can see how a member of the public thought it was a fight," explains Constable Jarrod Singh.
"But when I got closer I could see he was break dancing in the middle and there was someone filming it."
To the delight of the dance crew, Singh got involved, joining in with one member and showing off his impressive moves.