New US Attorney General Jeff Sessions sworn in
Comments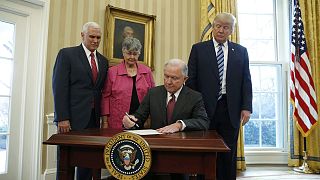 America's new Attorney General, Jeff Sessions, has vowed to get tough on crime and end what he called ''lawlessness'' in the US, during his swearing in ceremony at the White House.
Dogged by allegations of racism and links to the Ku Klux Klan, the Alabama politician only took the oath of office following his contentious confirmation by the Senate on Wednesday.
Speaking inside the Oval Office, Sessions said: "We have a crime problem….. This is a dangerous, permanent trend that places the health and safety of the American people at risk. We will deploy the talents and abilities of the Department of Justice in the most effective way possible to confront this rise in crime and to protect the people of this country."
President Trump also used Sessions' swearing in ceremony to sign three executive orders to deal with "public safety", including one targeting drug cartels and another aimed at tackling those who commit crimes against law enforcement officers.