CIA Director Pompeo in Ankara to discuss the fight against ISIL
Comments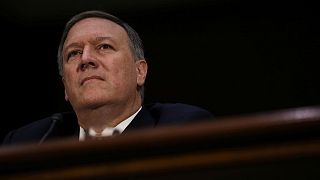 Just days after taking office, the new CIA Director Mike Pompeo has arrived in Ankara on Thursday for high-level talks with the Turkish government.
Pompeo's first foreign trip as America's top spy was hastily arranged and highly mediatized by Ankara, while the CIA declined to confirm the visit.
The trip followed two days after a 45-minute phone conversation between US President Donald Trump and his Turkish counterpart Recep Tayyip Erdogan on Tuesday.
According to the White House, the two leaders discussed "the close, long-standing relationship between the United States and Turkey and their shared commitment to combating terrorism in all its forms." The US statement added that President Trump lent America's support to Turkey in the region.
On top of Pompeo's agenda in his talks with Erdogan and the head of Turkish intelligence was the fight against the Islamic State group in Syria and Iraq, including a possible mission to recapture the jihadists' stronghold in their self-proclaimed capital Raqqa in Syria, according to media reports.
Ties between Turkey and the US, which are NATO allies, were strained under the Obama administration because Ankara was angered by Washington's support of Syrian Kurdish fighters.
While Turkey's government considers the fighters terrorists because of their affiliation with outlawed Kurdish rebels in Turkey, the Obama administration regarded them as the most effective group in the war against ISIL in Syria.
In his phone conversation with Trump, though, Erdogan tried to convince the new US president that arming Kurdish fighters in Syria for an assault on Raqqa would be counterproductive, arguing against a military-backed proposal in which the Kurds would play a key role in such an operation.
So far the Trump administration has not made a decision on the Kurdish question. Pompeo's talks is seen in Washington as part of additional consultations on that matter.
Pompeo's visit coincided with what Turkish authorities described as a major police operation against ISIL. Turkish police seized 24 suicide attack belts and detained four ISIL suspects who, officials allege, were planning to carry out a "sensational" attack in Turkey, officials said Thursday.
Police found the suicide belts — made with 330 pounds of explosives and fortified with metal pieces — as well as two automatic rifles, 31 pounds of TNT, cellphones that could be used as detonators and other materials during an anti-terror operation in Gaziantep, near the border with Syria.
Ahead of the Pompeo visit, Turkey also claimed its forces had made further advances towards al-Bab, where the terror atrocities in Paris, Brussels and Nice were planned.
Turkish forces have been bogged down for months outside the town, 25 miles north-east of Aleppo, following fierce ISIL counterattacks, which signaled the group's resolve to defend the most strategic areas of its fast-shrinking territory.
Also on the table is a Turkish request to extradite the Islamic cleric Fethullah Gülen, who has been living in his Pennsylvania exile for many years, despite demands by Erdogan for his extradition to face charges that his movement organized a failed anti-Erdogan coup plot last July.
Since then, the Turkish government has purged more than 130,000 civil servants, whom it accuses of Gülenist links.
Gülen's presence in the US had fed claims in Turkey that Washington had prior knowledge of the coup plot. The Obama administration repeatedly denied the claims and described as unconvincing a dossier, which Turkey alleged proved Gülen's involvement.