Migrants in limbo: thousands stranded in camps across Europe
Comments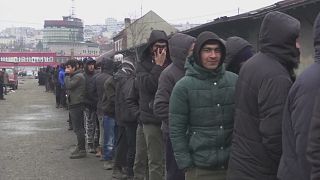 Stranded on the edge of the EU, hundreds of migrants have found shelter at an abandoned warehouse in Belgrade.
Some 7,000 people found themselves stuck in Serbia after the EU closed its borders.
Lining up to receive warm meals from aid groups, they remain hopeful of one day reaching western Europe.
"We will try. We will try again and again," says Abdul Safi from Afghanistan. "We will never give up, and we will request to all the European countries to open the border for us"
Across the continent thousands of migrants have been left in limbo. Waiting for news of acceptance or rejection of asylum applications takes months.
Tensions over camp conditions boiled over in southern Athens on Monday when migrants tried to block a Greek minister from entering.
Human rights groups are concerned that many are stuck in camps unfit for such long-term stays.