Mass sackings in latest Turkish government purge
Comments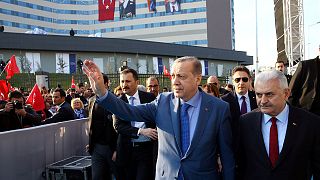 The Turkish government has announced close to 5,000 public workers have been stripped of their jobs.
The mass sackings include paramilitary police,civil servants and local police officers, among those fired are 330 academics.
[FULL LIST] Turkey's purge in full gear with 4,464 more public servants dismissed in new gov't decree || https://t.co/rSKdGSWs5Epic.twitter.com/eSRT1JGi2b

— Turkey Purge (@TurkeyPurge) February 7, 2017
The crackdown continues on those with suspected links to Fethullah Gülen accused of orchestrating last year's failed military coup.
Gulseren Asakali has lost her job at Ankara University:"The government is complicit in the crime to end freedom of expression, democracy, and the existence of people who defend peace at universities. We said the government was involved in anti-democratic measures, very serious rights abuses. We said it and we objected to it and that's why we're in this situation."
Dincer Demirkent also lost his job at the university: "They are taking away all our social and academic rights and freedoms; that takes away our political rights and leads to social exclusion. We have been living through this injustice since the state of emergency was imposed."
Turkish authorities detain prominent Kurdish MP #LeylaZana.In the past she was imprisoned for 10 years for defending Kurds rights in Turkey pic.twitter.com/iHzpbRPwdz

— Duhok Post (@Duhokpost) February 8, 2017
The purge has widened to include those who speak out against Turkish military operations in the Kurdish region in the south of the country.