French President visits 'police rape victim'
Comments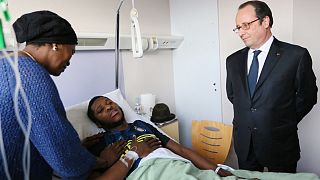 French President, Francois Hollande has gone to hospital to visit the man known as Theo who police allegedly 'raped' with a baton on 2nd February 2017.
#JusticePourTheo Le parquet efface le viol policier https://t.co/VwsHgsrRW1pic.twitter.com/Qq9NudWSAJ

— Politis (@Politis_fr) February 7, 2017
A spokesperson for the police said that 8 officers could have been killed during the second of three nights of violence the incident has sparked in the Paris suburbs.
At one point during the skirmishes in Aulnay-sous-Bois late on Monday night, several police who ran out of tear gas fired real bullets into the air to scare off a crowd that had surrounded them.
One police officer is under formal investigation for rape along with three others accused of using unnecessary force.