Schmidhofer sneaks up on big names to take World Championship Super G
Comments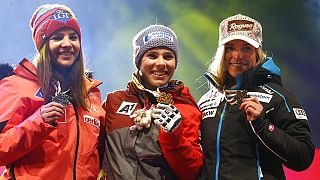 Dream conditions in St Moritz for the 2017 Alpine World Ski championships, and in the Women's Super G it was dreamtime for winner Nicole Schmidhofer, who stole the gold medal from under the noses of the favourites.
Two days of heavy snowfall meant conditions were ideal and the 27-year-old Austrian, who only had two previous podium finishes in her career, saw the big names fail to beat her time, crash out or miss gates as they tried to top her.
Tina Weirather held the early lead but had to settle for silver, a place that seems to suit her this year with three World Cup runners-up places already, while favourite Lara Gut took the bronze medal. It's Schmidhofer and Weirather's first world championship honours, while Gut now has five.
The mens' competition begins on Wednesday.