Colombia ELN rebels release hostage on the eve of peace talks
Comments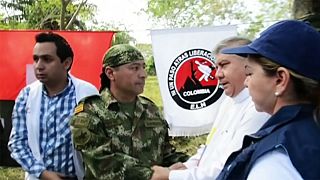 The National Liberation Army of Colombia has freed a hostage in a goodwill gesture on the eve of peace talks which would bring more than 50 years of conflict to an end.
Fredy Moreno was handed over by the country's last active rebel group, the ELN, two weeks after he was captured.
Peace talks were due to begin in October, but had been delayed while the rebels held Odin Sanchez, a former Congressman hostage, he was released last Thursday. In return, the government released two rebel soldiers from prison.
The pair are expected to join the negotiations which are due to begin today in Ecuador.
Talks come two months after the government signed a peace deal with the FARC, but the ELN could prove to be a tougher negotiating partner.
The five decade long conflict with Marxist rebels, which has killed more than 260,000 people and left tens of thousands missing is the last armed conflict in the Americas.