Chocolate sushi for your Valentine!
Comments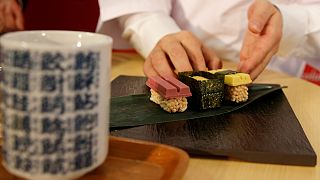 Nestle challenged the definition of sushi on Thursday as they unveiled "chocolate sushi" in a bid to attract more shoppers to its premium KitKat store on Tokyo's Ginza street.
The 3-piece set includes what could be seen as tuna, sea urchin and omelette sushis but which were actually raspberry, mascarpone cheese, and pumpkin pudding KitKats atop sugar-coated puffed rice.
Like the savoury version of sushi, however, they were accompanied with wasabi, or at least the powdered version.
Nestle Japan's manager Ryoji Maki said they're a fun variation of the usual chocolate bars.
"First of all, I hope our customers have fun with the look of this 'sushi' KitKat, but beyond that I hope they enjoy the taste of it as the rice part and the chocolate toppings are really well matched while maintaining the original feeling of KitKat chocolates," Maki told Reuters at a media event for the new chocolate.
The "sushi" KitKat, however, is not for sale – customers who spend more than 3,000-yen in their shop until the Valentine's Day will be given a pack as a present from Friday (February 3) onwards.
"It's the Valentine's season, so I hope this 'sushi' chocolates can be an additional item to the chocolate gifts to make it more surprising and fun," Maki said.
Nestle's Ginza KitKat Chocolatory, which opened today, was the brands' ninth premium store in the country and 11th worldwide. The most expensive item in the shop, "I Love Fruits" KitKat, which is a premium set of chocolate and fruit flavoured KitKats sold only in Japan, is 23 times more expensive per gram at 2,484 yen (22 USD dollars) for a full set compared to the original KitKat chocolate sold in supermarkets.
"Yes, we have been very much in the supermarkets as a mainstream brand, but the brand has much more to offer," Nestle Confectionary Business Manager Sandra Martinez said.
Japan is home to many exotic KitKat flavors including sake rice wine, baked potato and soy sauce.
Nestle said 1.5 million customers have visited its premium shops since the first Chocolatory opened in Ikebukuro, Tokyo in January 2014.
"Japan has been a leading market for us in showing us how we can really bring to this consumer this very new unique experience. And KitKat Chocolatory has proven that KitKat can be an is, a premium brand that takes into the new trend of premierization," Martinez said.
In Japan, women buy chocolates for their partners and even colleagues on Valentine's Day, while men return the favour a month later on White Day.
In a culture that places a lot of value on gift giving this tradition has chocolate sales enjoying a healthy peak during the February through March months.