Britain gets serious about America's Cup again with new challenger
Comments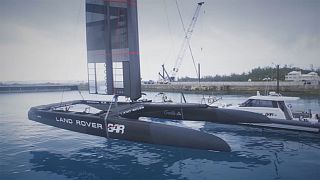 After 166 years of regularly losing the world's oldest sporting trophy, the America's Cup, Britain is getting serious about challenging again, and Land Rover BAR have high hopes
for their new boat that they believe will be one of the fastest and most technically advanced race yachts ever.
Launched in Bermuda, the boat was named 'Rita' by Sir Ben Ainslie's wife Lady Georgie Ainslie and daughter Bellatrix. The name has a winning pedigree – Sir Ben has used it throughout his career.
The boast is the fruit of collaborative design work by Land Rover and Jaguar combining aerodynamics, AI, virtual modelling, and self-learning car technologies. If all that can
deliver Britain's first-ever win, then it will all have been worth it, even if no-one is talking about the cost, which at this level is astronomical, easily comparable to Formula One racing.