Quebec mosque victims repatriated to Algeria
Comments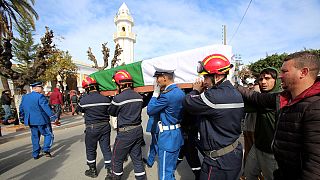 There were emotional scenes in Algeria on Saturday as the bodies of two men killed in a shooting rampage at a Canadian mosque were repatriated.
Government officials in Algiers joined family members mourning Khaled Belkacemi, 61, and Abdelkrim Hassane, 42, who were among six people killed in the massacre in Quebec last Sunday. Several others were injured.
French-Canadian student Alexandre Bissonnette, 27, has been charged with murder and attempted murder.