Protesters tell President Putin he's not welcome in Budapest
Comments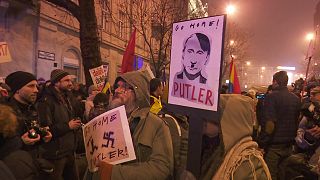 "We won't be a colony", "Europe don't give money to the autocrats and "Go home Putler" – just some of the placards waved by protesters angry about an official visit of President Putin to Budapest.
The demonstration was organised by an opposition political party.
Putin has been warmly welcomed to Budapest by Hungarian Prime Minister Victor Orban.
Budapest's warm welcome for Russian President Putin https://t.co/lv40L8wAaM

— jo gill (@JoGillJourno) February 2, 2017
One Hungarian protester told Euronews: "I don't think we should open up towards the East, towards a country where democracy doesn't work at all.
"Instead we should move towards democracy but that's not what we're doing right now."
And it was not just Hungarians taking part in the demonstration, Ukrainian citizens were also there.
"I think that Putin has no place in Europe," said one Ukrainian woman. "He's terrorist Number 1. He made war with Ukraine and killed a lot of people."
Euronews correspondent in Budapest Andrea Hajagos reported: "The demonstration was planned to be held at the Parliament to let Vladimir Putin hear the whistling.
"But because of very strict road closures the crowd could only come about 700 metres from the Parliament building."