Ukraine: People flee frontline eastern town amid upsurge in violence
Comments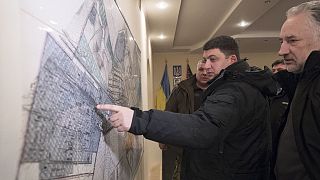 The first humanitarian evacuations have begun from Avdiyivka, a town on the freezing frontline of the recent flare-up of hostilities in eastern Ukraine.
Since Sunday at least 19 people have been killed amid renewed fierce fighting between government forces and pro-Russian rebels that has left residents terrified.
"This is the first time here but the shelling often happens around," said one woman, whose neighbour was killed.
"Two shells got into our hospital. My daughter called me and said a shell hit their street. A woman is wounded there. In recent days we have been living as if we are sitting on a volcano."
Mothers and children were the first to board buses leaving the town, according to media reports.
Ukraine starts evacuating civilians from an eastern town at the center of a deadly flare-up https://t.co/VERXYDFHHKpic.twitter.com/9aqt5sZRYl

— Bloomberg Politics (@bpolitics) 1 février 2017
As the UN Security Council expressed 'grave concern', Ukraine's military and pro-Moscow separatists accused each other of launching the offensives in the government-held industrial town and firing heavy artillery, despite the two-year-old Minsk ceasefire deal.
"The members of the Security Council expressed their full support of sovereignty and territorial integrity of Ukraine," the Security Council said in statement on Tuesday. "The members of the Security Council called for an immediate return to a ceasefire regime."
AFP: Global alarm over Ukraine fighting as death toll hits 19 https://t.co/pdYWx5zWKTpic.twitter.com/ggeqw4Hcxj

— Kyiv Post (@KyivPost) 1 février 2017
The Security Council includes both Russia and Ukraine, which is a rotating member of the council. Both nations had agreed to the Security Council statement, which noted the unrest's "severe impact on the local civilian population".
The latest clashes mark the first significant escalation in Ukraine since the inauguration of US President Donald Trump, whose call for better relations with Moscow has alarmed Kyiv while the conflict remains unresolved.
The Kremlin claims Ukraine is testing the new Trump administration by provoking clashes.
Ukraine and NATO accuse Russia of supporting the rebels with troops and weapons. The United States and European Union have imposed sanctions on Moscow over the conflict, as well as for its annexation of Crimea.
NATO Secretary General Jens Stoltenberg called on Russia on Wednesday to use its "considerable influence" with rebels to end what he called "the most serious spike in violations" of a shaky truce there in a long time.
Speaking to reporters, Stoltenberg said the ceasefire in eastern Ukraine has been violated more than 5,600 times in recent days, leaving some 20,000 people without electricity amid freezing temperatures.
Serious spike in violence in eastern Ukraine. Dire situation in #Avdiivka. #NATO calls for an immediate return to the ceasefire.

— Jens Stoltenberg (@jensstoltenberg) 1 février 2017
with Reuters