Confusion reigns over Trump's travel ban
Comments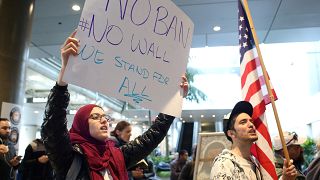 President Donald Trump's travel ban has divided America according to opinion polls, while also causing major confusion abroad.
Some citizens from the seven banned countries who have duel nationality might now be allowed into the US depending on their passports.
Info and Q&As about the Executive Order: Protecting the Nation from Foreign Terrorist Entry into the US posted here: https://t.co/aiXO6Om3zEpic.twitter.com/g7Ni6vyqtW

—

CBP

(@CustomsBorder) January 31, 2017
The US Homeland Security Secretary John Kelly said protection was the priority.
"I repeat, this is not a ban on Muslims. The homeland security mission is to safeguard the American people, our homeland, our values and religious liberty is one of our most fundamental and treasured values. It is important to understand that there are terrorists and other bad actors who are seeking to infiltrate our homeland every single day."
But John Kelly went on to say that the seven countries temporarily barred by Trump's executive order could be blocked indefinitely and others could be added to the list.
Under the order released on Friday (Jan 30 ), travelers from Iran, Iraq, Libya, Somalia, Sudan, Syria and Yemen may not enter the country for at least 90 days while Kelly and others determine whether there is enough information available to screen them.
In Iraq, the travel restrictions have angered the government with Prime Minister Haider al-Abadi describing the order as "an offence".
He said the US should be grateful to his country because of its sacrifices in fighting terrorism.
For the past two years US-backed Iraqi forces have been battling Islamist extremists.
Opinion polls
In a Reuters/Ipsos poll some 31 percent of people said the ban made them feel "more safe," while 26 percent said it made them feel "less safe." Another 33 percent said it would not make any difference and the rest said they don't know.
The Reuters/Ipsos poll also found that 49 percent of Americans agreed with the order and 41 percent disagreed. Some 53 percent of Democrats said they "strongly disagree" with Trump's action while 51 percent of Republicans said they "strongly agree."