Will wrestling beat the Trump travel ban?
Comments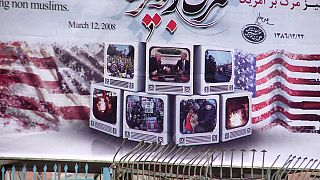 Iran is one of the seven majority-Muslim countries targeted by the US immigration ban.
Insiders say it will make it virtually impossible for relatives and friends of an estimated one million Iranian-Americans to visit the United States.
On Saturday, Iran said it would stop US citizens entering the country.
It is in retaliation to Washington's visa ban against Tehran and six other majority-Muslim countries announced by the new US president, Donald Trump.
Foreign Ministry statement
"While respecting the American people and distinguishing between them and the hostile policies of the US government, Iran will implement the principle of reciprocity until the offensive US limitations against Iranian nationals are lifted," a Foreign Ministry statement said.
"The restrictions against travel by Muslims to America..are an open affront against the Muslim world and the Iranian nation in particular and will be known as a great gift to extremists," the statement continued.
The ban
By executive oder on Friday, Trump banned immigration from seven Muslim-majority countries – Iran, Iraq, Syria, Libya, Somalia, Sudan and Yemen – and temporarily halted the entry of refugees.
Will it have much effect?
Yes.
It will make it virtually impossible for relatives and friends of an estimated one million Iranian-Americans to visit the United States.
What President Rouhani has said
Iranian President Hassan Rouhani says it is no time to build walls between nations.
He also criticsed steps towards cancelling world trade agreements, without naming Trump.
"Today is not the time to erect walls between nations," Rouhani said in a live speech on Iranian television. "They have forgotten that the Berlin Wall fell years ago."
"To annul world trade accords does not help their economy and does not serve the development and blooming of the world economy. This is the time for the world to get closer through trade."
Iran's nuclear deal
Analysts say Rouhani is a pragmatist.
He was elected in 2013 and, thawing Iran's relations with world powers, he engineered its 2015 deal with them under which it curbed its nuclear programme in exchange for relief from sanctions.
The Oscars
The Oscar-winning filmmaker Asghar Farhadi will boycott this year's ceremony in protest at Trump's "unjust" ban on people from his country.
The director won the best foreign language film award in 2012 for "A Separation". He is nominated again this year for "The Salesman".
He compared the Trump administration to Iranian hardliners, as both use the fear of outsiders "to justify extremist and fanatic behaviour by narrow-minded individuals."
Taraneh Alidoosti, the female lead of Farhadi's film, which is nominated for this year's foreign language Oscar, has already announced she would boycott the ceremony in protest at Trump's "racist" travel ban.
The Academy of Motion Picture Arts and Sciences called Trump's travel ban "extremely troubling" after noticing that Farhadi and his cast and crew would be barred.
"The Academy celebrates achievement in the art of filmmaking, which seeks to transcend borders and speak to audiences around the world, regardless of national, ethnic or religious differences," it said.
We are hoping wrestling will transcend politics
US wrestlers say they plan to be at next month's World Cup in Iran despite Tehran's claim that it is banning American visitors.
The US freestyle team's participation had been in doubt, given the fallout from Trump's executive order banning travellers from seven Muslim-majority countries, including Iran.
However, USA wrestling says it still plans to send a delegation of 13 athletes, two coaches and support staff to the competition in Kermanshah on February the 16th and 17th.
"We're hopeful wrestling again will transcend politics. It is an important competition for us and seven other nations," said USA Wrestling Executive Director Rich Bender