Bosnian women mark World Hijab Day
Comments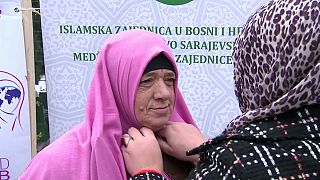 Muslim women in towns across Bosnia have been encouraging women of all faiths to don a headscarf. It's all in aid of World Hijab Day, which aims show solidarity and promote tolerance.
Many Bosnian women in Sarajevo were protesting against the ban on hijabs in certain countries.
"I am not intimidated by that (ban of hijab in some countries). We know since a long time ago that there is an ongoing war against Islam. Automatically, there is war against women wearing the hijab, because the hijab is part of Islam. But, if you have strong faith and determination – then there is no fear. Absolutely not," Mirsada Bulic Huseljic, resident of Visoko said.
"Unfortunately, we are aware that throughout the history there were periods when Muslim women wearing the hijab had a rough time, or had an easier time. So, today, we are probably in a period when we are under special scrutiny, and it is our duty to present ourselves in a special way, to be as positive as we can. We have to explain to people that this is a very positive story, something that is opening new doors for us, and it's definitely not restraining us," said Belma Corbo, resident of Sarajevo.
While some European countries have banned hijabs in public places, certain countries including Iran, Saudi Arabia and Sudan require women to wear head scarves outside of their homes.