Two killed as Houthis attack Saudi warship off Yemen coast
Comments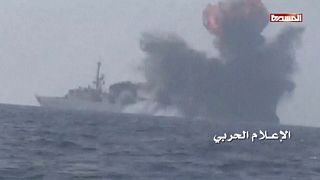 A Saudi warship has been attacked off the coast of Yemen, causing a large explosion on board.
A video released by al-Masirah television which is run by the rebel Houthi movement claimed to show the moment of attack.
The Saudi state news agency SPA said the frigate had been on patrol west of the port of Hodeidah when it was attacked by three suicide boats belonging to the Houthi militias.
Two crew members were reportedly killed and three others injured. They were said to be in a stable condition and the fire was put out by the crew.
The Houthis who control the capital Sanaa said the warship had been involved in aggression against coastal cities and Yemeni fishermen.
The Saudi-led coalition said the attack would impact international navigation and the flow of humanitarian aid for civilians.