Six killed in 'terror attack' on Quebec mosque
Comments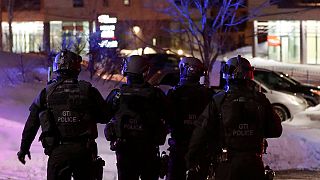 Six people have been killed and eight injured in a shooting at a Quebec City mosque in Canada, according to latest reports.
Religious tolerance is a value that we, as Canadians, hold dear.

Canadian prime minister
Witnesses said gunmen opened fire during evening prayers when at least 40 people were reportedly inside the building. Two people have been arrested, although some witnesses reported seeing three attackers,
Prime Minister Justin Trudeau, who has been Tweeting his support for religious minorities in the aftermath of Donald Trump's restrictions on travel from a number of majority-Muslim countries, has condemned what he called a "terrorist attack on Muslims".
"While authorities are still investigating and details continue to be confirmed, it is heart-wrenching to see such senseless violence. Diversity is our strength, and religious tolerance is a value that we, as Canadians, hold dear."
Tonight, Canadians grieve for those killed in a cowardly attack on a mosque in Quebec City. My thoughts are with victims & their families.

— Justin Trudeau (@JustinTrudeau) January 30, 2017
Police were quickly on the scene and put up a security perimeter around the mosque.
Incidents of Islamophobia have increased in Quebec in recent years. Last summer the Islamic Cultural Center as it is also known, was a target of vandalism when it was smeared with what is believed to have been pigs blood on one of its gates during the holy month of Ramadan.
In 2015 in the neighboring province of Ontario, a mosque was set on fire one day after an attack by gunmen and suicide bombers in Paris.