Schulz nominated as SPD candidate to take on Merkel for German Chancellor
Comments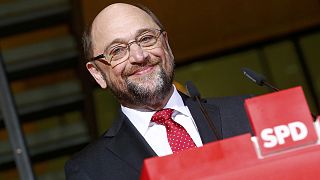 In Germany, the centre-left SPD has chosen Martin Schulz as its candidate in the battle to become the country's next chancellor.
The former European Parliament President was unanimously chosen by the party's executive committee on Sunday to run against Angela Merkel.
Schulz will take over from current leader Sigmar Gabriel in March. He stepped down last week saying Schulz had a better chance in the September vote.
Accepting the nomination in front of supporters, Schulz declared:
"Social democracy is about being fair to each other, hand in hand, side by side. In order to have the best for our country, we are seeking practical solutions for people. What a big difference that is to the conservatives' non stop, tiring arguments.''
But europhile Schulz, who has stated he wants the harshest Brexit possible for Britain, faces an uphill task if he is to topple Merkel. Latest polls put the SPD well behind Merkel's conservatives.