Fillon fights to get campaign back on track after "fake jobs" allegations
Comments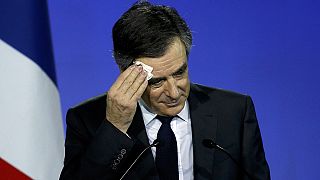 France's embattled conservative presidential candidate Francois Fillon has been fighting to get his campaign back on track after allegations of misuse of public funds.
Together with his wife Penelope he was given a standing ovation at a supporters rally on Sunday.
Fillon has denied wrongdoing after reports emerged alleging his wife had been paid thousands of euros as his parliamentary secretary for no discernible work.
"Three months before the presidential elections, and coincidentally, a scandal has erupted," said Fillon.
"Through Penelope, they try to destroy me. I am afraid of nothing. I have a solid backbone. If they want to attack me, they can attack me straight in the eye, but they should leave my wife out of this political debate."
Though it is legal in France for parliamentarians to employ family members there must be proof of work having been undertaken.
The reports appeared last week in the satirical weekly Le Canard Enchaine. It claimed Penelope Fillon had been given "fake jobs" and was paid 600,000 euros for her duties as parliamentary assistant and later for contributions to a cultural magazine.
Fillon says they were not fake; his wife has yet to respond to the allegations.
The scandal has badly dented Fillon's popularity ahead of the spring presidential election, throwing a cloud of uncertainty over expectations of a two-horse race between him and far-right leader Marine Le Pen.
In his speech to Sunday's rally, Fillon, whose platform focused on hefty spending cuts has drawn criticism even from within his own party, said he would increase pensions of below 1,000 euros a month by over 300 euros. Payroll tax cuts would also benefit workers.