Ski Jumping: Flying Poles seal Willingen team event
Comments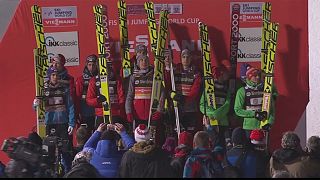 Poland celebrated only their second victory in a World Cup team ski jumping competition on Saturday.
Four Hills winner Kamil Stoch led his nation to victory on the Muehlenkopf-hill in Willingen, Germany.
Maciej Kot, Piotr Zyla and Dawid Kubacki completed the winning Polish quartet, which ended the event with 931.5 points.
It was their second triumph on the elite circuit with their first also coming this season in Klingenthal.
Austria took second place – Stefan Kraft made up for a poor first attempt with a stunning second of 142 metres.
That leap lifted the Austrians into the runners-u spot with an overall score of 919.2 points.
Gregor Schlierenzauer, Manuel Fettner and Michael Hayboeck made up the rest of the Austrian team.
The 21 000 strong crowd had reason to hope for a home win after Germany lead after the first half of the competition.
But Markus Eisenbichler, Andreas Wellinger, Stephan Leyhe and Richard Freitag failed to capitalize and had to settle for the final step of the podium.
The individual competition in Willingen begins on Sunday.