Alpine skiing: Ganong ends US's World Cup win drought
Comments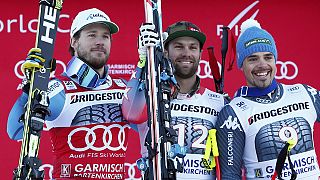 American Travis Ganong stormed to his second career World Cup victory, just over two years after his first, when he won a downhill race at the German resort of Garmisch Partenkirchen.
The 28-year old stunned the big guns and tamed the challenging course that caused a few skiers to crash, to taste success for the first time since the 2014 Santa Caterina downhill.
It was also the first win for an American male in any World Cup discipline since October 2015, when Ted Ligety won a Giant Slalom in Solden, Austria.
The California-native crossed the line 0.38 seconds clear of Norwegian Kjetil Jansrud.
With his runners-up finish, Jansrud takes over from Italian Dominik Paris as the new leader in downhill World Cup rankings.
He is a mere three points ahead of another Italian Peter Fill who is now second in the standings.
Fill also leapfrogged his compatriot, Paris, when he claimed third place on the day.
The 34-year old was 0.52 seconds off Ganong's pace.
It was his second podium placing of the season after a runners-up finish in Val d'Isere in early December.
One of those to crash out was America's top downhiller Steven Nyman, who smashed into the netting following after losing control on a jump and was subsequently airlifted to hospital.
He was, however, able to stand up before being flown off the course.