Turkey: Anger as Greek court rejects extradition of fugitive soldiers
Comments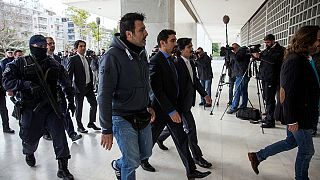 For Turkey's government, they are traitors.
But eight Turkish soldiers who fled to Greece after last July's coup attempt have been told they can stay in the country, where they have claimed asylum.
Ankara is furious after the Greek Supreme Court on Thursday ruled against extraditing the men, who say they fear for their safety if they are sent back.
"The decision of the court was based on the argument that the supreme values of human dignity and human life must be safeguarded," said chief defence lawyer Christos Mylonopoulos.
LATEST: Greek top court rejects extradition of all eight Turkish soldiers accused of coup involvement https://t.co/aAVwBuNiGcpic.twitter.com/XGB7axmfnM

— Hürriyet Daily News (@HDNER) 26 janvier 2017
Turkey has now issued arrest warrants for the men — three majors, three captains and two sergeant-majors — who flew out by helicopter a day after the coup attempt.
They reject claims they had tried to oust President Recep Tayyip Erdogan, who has since led a purge of the military and civil service.
But slamming the court's ruling as politically motivated, Turkey says it will evaluate the impact of the judgement on bilateral relations with Greece, a partner in NATO.
The Turkish foreign ministry accused Greece of protecting plotters and said it would "use all avenues of law" to ensure the soldiers' extradition and prosecution.
"Once again Greece, an ally and a neighbour, has failed to fulfill the basics of the fight against terrorism," it said.
Turkey says Greece protecting coup plotters after court ruling on soldiers https://t.co/ZN0knI0ikCpic.twitter.com/EzNl2hfuPh

— Kathimerini English (@ekathimerini) 26 janvier 2017
Our correspondent in Athens, Giannisis Stamatis, says the court decision may have delighted human rights activists but it has alarmed the Greek government, as the refusal to extradite is likely to cause serious friction in diplomatic relations with Turkey.