Trump arrives at Republican retreat in Philadelphia
Comments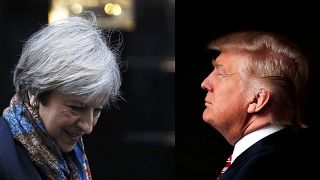 After a frenzy of executive orders, Donald Trump has addressed the Republican retreat in Philadelphia to get the backing he needs to push his agenda forward as quickly as possible.
The meeting came as the Mexican president announced he had scrapped plans to visit the new US president next week as tensions rose over a proposed US-Mexico border wall.
"I have taken major contractual steps to restore the rule of law and to return power to every day Americans."
Also expected at the meeting was British Prime Minister Theresa May. As she landed in the States she told reporters of potential clashes with Trump 'opposites attract'. And she called on the new US president to build a strong special relationship between their nations.
Trump had his own concerns about the meeting with the UK leader.
"I am meeting with the prime minister tomorrow as you know – Great Britain – so I am meeting with her tomorrow, I don't have my commerce secretary… they want to talk trade – so I have to handle it myself which is ok," he told the audience.