Hungary's Orban : 'Make Europe great again'
Comments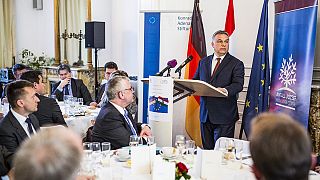 Europe is starting a new era of political thinking, the situation is awfully bad and we need to change it – this is one of the main ideas of Hungarian Prime minister Viktor Orban who delivered a speech at Konrad Adenauer Stiftung in Brussels. He pointed out that "whatever exists is possible". Referring to the inauguration speech of the new American President Donald Trump, Orban reminded that it is a right of all nations to put their interests first.
"It does not mean confrontation. We have good news – an era of multilateralism is finished, it is time for bilateralism. New opportunities emerge in bilateral relations, including military and economic policies", – Orban said.
He showed his sympathy to Russia saying that this country survived despite Western efforts to isolate it, it has survived sanctions. According to Orban, Europe should engage more in talks including with Moscow. Without mentioning the ongoing war in Ukraine and annexation of Crimea, the Hungarian leader indicated that the European Union should separate Russian and Ukrainian issues, should think of Ukraine "from our direction, not from Russian perspective".
Orban advises getting rid of the illusion of federalism. "There is no European people, there is European peoples",- he said. The head of a centre right Hungarian party Fidesz is confident that Europe demonstrated failure to achieve specific goals set up by itself. "We have to change and make Europe great again",- Orban stated.