EuroLeague: Real Madrid shoot to the top of the table
Comments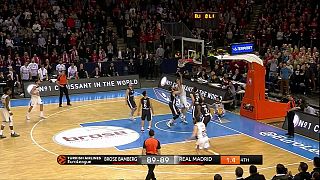 Real Madrid celebrated their fourth consecutive EuroLeague win on Wednesday night to move top of the standings, level on points with defending Champions CSKA Moscow.
Real's latest victims were Brose Bamberg, but it was by no means an easy win.
The game went all the way to the wire, as the German's of Bamberg rallied back from a 5-point deficit in the final minute to tie it at 89 all on free throws by Nikos Zisis.
But Sergio Llull was on hand, and rather off-balance, to sink a game-winning shot with 1.1 seconds remaining on the clock to snatch a last gasp victory for the Spaniards in Nuremberg.
Llull would finish the night with 26 points to pace the nine-time champions while Jaycee Carroll added 24 as Real improved their record to a joint table topping 14 and 5.
Elsewhere on the night bottom of the table Milan produced a dominant fourth-quarter display to stun the visiting Olympiacos and notch up their second straight victory.
The Greeks owned the first quarter but it was a reverse in fortunes in the second as both teams headed into halftime with the score level at 41 apiece.
Milan took the game by the horns in the third and outscored Olympiacos by six and then stormed away in the fourth to register a 99-83 upset of the three times champions.
Krunoslav Simon paced Milan with 16 points while Milan Macvan and Davide Pascolo both added 15.
The defeat dropped Olympiacos into third place in the standings with a 13-6 record while despite the win Milan remain routed to the bottom of the league.