Five more bodies found after Tehran building collapse
Comments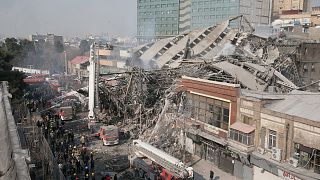 Rescue workers have found five more bodies after a building collapsed in Tehran last week.
At least 20 firefighters were killed when the 17-storey building in the Iranian capital collapsed after a fire.
With heavy machinery and rescuers still searching through the rubble, the death toll is likely to rise.
Crowds gathered around firefighters and threw flowers and chanted religious verses as the latest bodies were pulled for the wreckage, many are coming to terms with the loss of their colleagues.