EDF accepts closure of France's oldest nuclear plant
Comments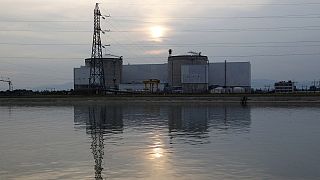 EDF has finally voted to begin the process of closing France's oldest nuclear plant after accepting a government compensation plan.
Under the deal the company will be paid €490m for dismantling the 39-year-old Fessenheim plant and the retraining of its 850 workers.
Unions said they were pleased that the plant, which had been slated for closure in 2016, would stay open for another year.
EDFCEO Jean-Bernard Levy stressed the gradual shutdown and dismantling of the plant will take several years:
"There will be a long and gradual shutdown period at Fessenheim. What is certain is that salaried jobs at EDF are guaranteed and the government has put into place a structure, a delegation for the revitalisation of the Fessenheim site in particular with energy transition projects."
The environment group Greenpeace has fought for the closure of the plant as they consider it dangerous. Spokesman Cyrille Cormier said it's time to get rid of nuclear power altogether:
"French nuclear reactors are ageing, they will close for nuclear safety reasons and one will have to prepare EDF and its employees to turn to sustainable energies. That's what EDF needs to do."
EDF has stressed the plant's closure will still require a government decree, subject to the company obtaining official authorisation for its new generation EPR reactor in Flamanville.