Six killed in Italy after rescue helicopter crashes
Comments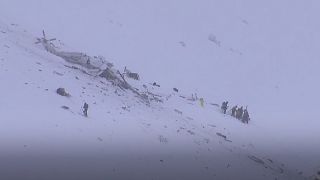 Six people have been killed in central Italy after a rescue helicopter crashed.
The aircraft is said to have come down in thick fog in a mountainous region not far from where a hotel was engulfed by an avalanche last week.
It is reported that the helicopter had picked up an injured skier near the Campo Felice ski resort in Italy's Abruzzo region just before the accident. Witnesses reported hearing a loud explosion.
Officials say emergency teams found the six dead in the snow upon reaching the crash site.
It is not thought that the aircraft was involved in the ongoing rescue operations at the hotel Rigopiano.