Russia, Iran and Turkey agree to enforce shaky Syria truce
Comments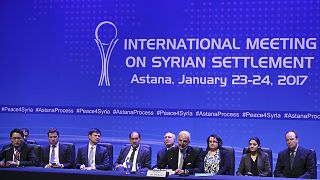 The three countries sponsoring the Syrian talks – Russia, Iran and Turkey – have agreed to monitor jointly a three-week fragile ceasefire.
The deal came after two days of discussions in Astana, the capital of Kazakhstan.
Rebel and government delegates have held indirect talks for the first time in nine months.
Kazakhstan's Foreign Minister Kairat Abdrakhmanov said the powers had agreed in their final communique to establish a system to observe and ensure full compliance with the ceasefire, prevent any provocations and sort out the mechanism to make the truce work.
The opposition delegation said it didn't officially receive any draft communique.
Its spokesman Osama Abu Zaid argued they couldn't therefore comment on anything being published on social media.
"The main obstacle for the success of this conference and these negotiations is the continuation of violations by the Assad regime and the threat of forced displacement in many areas (of Syria). we cannot talk about any progress before changes begin to happen on the ground," he said.
The Syrian government representative claimed the opposition was linked to foreign agendas and working for foreign powers.
"The issue here is not about who is happy and who is not happy. The issue here is that finally we have a consensual paper called final communique, or final declaration, agreed upon by everybody. This is a result, this is what we should care about," said the Syrian government's chief negotiator Bashar Ja'afari.
The three sponsor countries did not spell out how the monitoring mechanism would work; they are to meet soon according to the UN's envoy Staffan De Mistura.
The Syrian government say an offensive against rebels west of Damascus will continue; rebels say it's a major violation of the latest ceasefire agreed on December 30.