Row explodes over choice of men-only golf club for 2020 Tokyo Olympics
Comments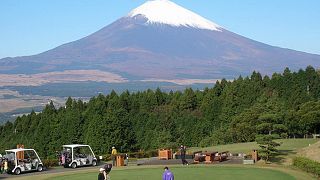 The Tokyo 2020 Olympic Games organisers are facing calls to move the venue for the golf competition because the selected country club does not allow women to become regular members.
It is a major row that is involving some of Japan's biggest sporting administrators. Now the Japan Golf Council has written to the IOC demanding that the tournament be moved.
"Kasumigaseki is a exclusively high-class private club, and normal people are not able to play there unless they are introduced by a full member. In addition, as mentioned by the moderator, women are not able to become full regular members of the club, and they are also not permitted to play on Sunday; which means they cannot also be involved in management decisions and operations of the club," said Council Chairwoman Eiko Ohya.
Kasumigaseki is one of Japan's oldest private clubs and the country club complex is world-famous, used for visiting dignitaries and feature film shoots.
"I think the selection process of the venue seems rather strange. The fact that a club which does not allow women as full regular members was selected for Olympics is also difficult to understand," said Council Vice-Chair Masayuki Tamaki.
Tokyo's governor has also criticised the club, which won the Olympic golf tournament over the public Wakasu Golf Links after bidding. Wakasu may be built on a former rubbish dump but it is much closer to the olympic village and was the original favoured site.