Israel plans 2,500 new West Bank settlement homes
Comments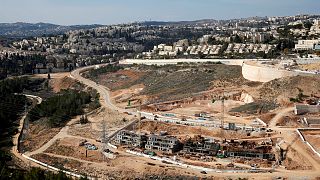 Israel has announced plans for 2,500 more settlement homes in the occupied West Bank. It's the second such declaration since US President Donald Trump took office indicating he would be more tolerant of such projects than his predecessor.
The Israeli Defence Ministry says most will be in existing settlement blocs and are designed to meet the demand for new housing.
Earlier Prime Minister Benjamin Netanyahu said he was lifting restrictions as approval was given for hundreds of new homes.
The Palestinians have condemned the move. The Palestinian Authority said the construction plan was a "deliberate provocation".
"The Israeli declaration of 2,500 new settlement units in the Occupied Territories is nothing but a declaration of war on peace, a declaration of war on (the) two-state solution. This means that the Israeli government is determined to violate international law and the most recent resolution of United Nation Security Council 2334," said Mustafa Barghouti of the PLO executive committee.
Earlier this month the Israeli newspaper Haaretz reported that Donald Trump's son-in-law has funded one of the settlements that is to receive new homes.
Jared Kushner has been cleared to serve as a White House adviser. The president said in an interview with the Times that he wanted him to work on the Middle East.
Israel's defence ministry says 100 homes will be built in Beit El. Trump's nominee to be US ambassador to Israel, David Friedman, has served as president of a fundraising group for the settlement.
The European Union has joined international condemnation of Israel's announcement, saying in a statement that it seriously undermines the prospects for a viable two-state solution.