White House looks at moving US embassy to Jerusalem
Comments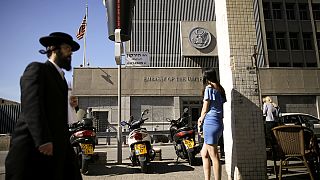 The White House says it is in the early stages of talks to carry out President Donald Trump's pledge to move the US embassy in Israel from Tel Aviv to Jerusalem.
It is an action likely to prompt protests from US allies in the Middle East such as Saudi Arabia, Jordan and Egypt.
Israel views the whole of Jerusalem as its capital, but Palestinians also lay claim to the city as part of an eventual Palestinian state. Most of the world considered its final status a matter for peace negotiations.
President Mahmoud Abbas has already voiced his criticism of the idea.
"We say to Mr. Trump that we hope he will not move the embassy from Tel Aviv to Jerusalem because Jerusalem from the Israeli point of view is a united city and this is not correct and illegal. Therefore, moving the embassy to any place will be a step ahead of anything that may happen in the future and will damage the peace process."
Sunday night, protesters in the West Bank city of Bethlehem showed their anger over the proposed move.
The UN does not view Jerusalem as Israel's capital and does not recognise its annexation of Arab East Jerusalem after its capture in the 1967 Middle East war.
More than 500,000 Jews live in about 140 settlements built since the occupation.