Northern Ireland: Sinn Fein names Michelle O'Neill to replace Martin McGuinness
Comments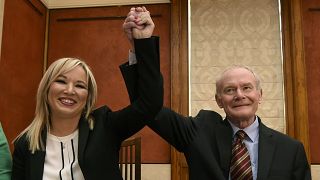 In Northern Ireland, Sinn Fein has named Michelle O'Neill as its new leader at Stormont to replace the outgoing Martin McGuinness.
The 40-year-old takes over weeks before snap elections in the province.
O'Neill faces the challenge of rebuilding the shattered powersharing coalition with the pro-British Democratic Unionist Party. Sinn Fein is also seeking special status for Northern Ireland with the EU following Brexit, something the DUP opposes.
"We cannot allow the British government's withdrawal from the European Union to undermine the Good Friday Agreement, the protections and safeguards within it or the principle of consent either. The North is being forced to leave the EU against the express wishes of our people who voted to remain," O'Neill said.
Unlike, veteran McGuinness, who she described as a 'political giant', O'Neill is the first leader of Sinn Fein who doesn't have a direct past with the IRA and has been described as a generational change.
McGuinness quit as Northern Ireland's Deputy First Minister earlier this month after a dispute with DUP leader Arlene Foster over a botched renewable energy scheme. It's estimated that could cost the taxpayer more than 550 million euros.