Donald Trump vows to ''massively'' cut regulations and taxes
Comments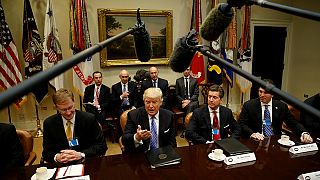 Donald Trump has vowed to ''massively'' cut regulations and taxes on companies that keep jobs in the US.
Holding talks with several senior business leaders at the White House the new US president repeated his campaign pledge to roll back corporate rules.
Trump says he believes taxes can be cut by as much as 75 percent, ''maybe more''.
"We will be cutting regulation massively. We are gonna have regulation and it will be just as strong and just as good and just as protective of the people as the regulation we have right now: The problem that we have with the regulation we have right now is that you can't do anything."
Meanwhile, the nomination of Rex Tillerson as Secretary of State seems all but assured on Monday after Senator Marco Rubio dropped his objections.
The Senate is also set to decide on whether to accept Trump's choice for CIA director, Mike Pompeo.