Body of seventh victim found in Italy hotel avalanche
Comments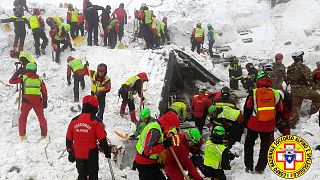 The body of a seventh victim has been found amid the ruins of a mountain hotel in central Italy following last week's avalanche.
The woman's body was recovered on Monday afternoon. Another 22 people are still missing, while 11 are known to have survived the disaster, including four children who were found under snow and debris on Friday.
However questions have intensified over whether Italian authorities underestimated the risks facing the hotel before the avalanche hit.
Alessio Feniello, whose son Stefano Feniello is missing after the avalanche, accuses the authorities of wrongly telling him his son had been rescued.
He claims that when my son's girlfriend was pulled out, she told the rescuers her boyfriend was inside. "I asked them: 'did any of you go down (into the hole), to verify whether the girl was telling the truth about there being a body, an arm?' They told me they didn't know."
One survivor, Georgia Galassi, was released from hospital in Pescara on Monday to be reunited with her family in the town of Giulianova on the Adriatic.
She was among those rescued from the hotel along with her boyfriend, who has been praised for singing to keep up the morale of those trapped.