Families of Hungarian bus crash victims arrive in Italy
Comments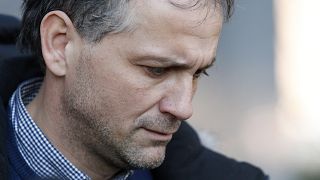 Families of the Hungarian students killed and injured in a bus crash in Italy are arriving in Verona, assisted by consulate staff and local officials.
Sixteen people, mostly students, were killed on Friday night when the bus they were travelling in crashed while returning to Budapest from a ski trip in France.
The father of one injured student told reporters: "He is fine. He only has slight injury, but in his soul he is completely out of question. So it was very hard."
Peter Hamori, the father of another survivor, said: "Our son called us straight away after the accident happened. He was in shock. We got in the car immediately and set off for Italy."
As well as those killed, some 40 others were injured when the bus burst into flames after crashing on a motorway.
Police officer Girolamo Lacuanetti said: "Two people are in a very serious condition and we are having some problems identifying them.
"Therefore this is a delicate situation and we have to wait to be more certain."
Other tragic details have emerged, including news that a teacher and his wife heroically went into the flames and rescued a dozen students but were unable to save their own two children trapped on the bus.
The pair are being treated in hospital for severe burns.