Outbursts of violence mar otherwise peaceful anti-Trump protest
Comments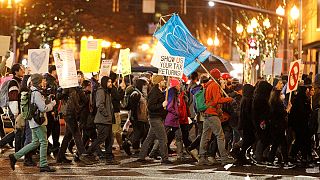 The political divisions ignited by Trump's presidency were clear to see on the streets of Washington.
Outbursts of violence from dozens of activists amid hundreds of protesters marred an otherwise peaceful anti-Trump demo.
Some dragged rubbish bins into the streets and set them ablaze using Trump merchandise.
More than 200 people were arrested as riot police clashed with the group dressed in black, and many condemned the violence.
"Throughout the city we have seen hundreds upon hundreds of protesters who have respected our laws and have made their voices hear through non-violent acts of protest," said Washington mayor Muriel Bowser, praising the peaceful protesters.
The protest came after Trump was sworn-in giving an inaugural speech focusing on 'making America great again', heavily referencing his populist slogans on the campaign trail.