Three killed and 20 injured as car ploughs into Melbourne pedestrians
Comments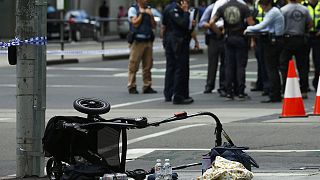 A driver has ploughed his car into pedestrians in a busy street in Melbourne, Australia, killing three people including a young child.
At least 20 people have been injured, with five people including an infant in a critical condition in hospital.
Anyone who witnessed the event or who has information can contact Crime Stoppers on 1800 333 000. Read more – https://t.co/itFUyBa9Iopic.twitter.com/1qdFieorPF

— Victoria Police (@VictoriaPolice) January 20, 2017
Police say the incident does not appear to be an act of terrorism.
Victoria Police can confirm today's Melbourne CBD incident is not a terrorist incident. To clarify, the term CT stands for Counter Terrorism

— Victoria Police (@VictoriaPolice) January 20, 2017
Victoria Police Acting Commander Stuart Bateson told reporters: "We believe this is connected to an earlier stabbing in Southern Metro region.
"We have the offender in custody, there is no further threat to the public at this stage.
"At this present stage we ask the public to avoid the city, it is going to take us a really long time to process this scene."
.johanna_nic</a> speaks with witness Jeff Richards who took this confronting vision earlier today in <a href="https://twitter.com/hashtag/MelbourneCBD?src=hash">#MelbourneCBD</a> <a href="https://t.co/kMR408bQs0">pic.twitter.com/kMR408bQs0</a></p>&mdash; ABC News 24 (ABCNews24) January 20, 2017
The driver was stopped after police rammed his car and he was shot in the arm.
The man is reported to have been known to police and had drug and mental health problems.
The State Premier, Daniel Andrews, has described the incident as an "evil criminal act".
car reportedly hit pram/bassinet and baby went flying through the air. just absolutely horrific https://t.co/9X4jhu8C4Y#melbourne#BourkeSt

— Hannah Francis (@han_francisco) January 20, 2017